Christmas in the Tropics
How do you celebrate Christmas in the Tropics?

Generally the picture of Christmas is one of Snow, Christmas Tree by the Fireside, Warmth of family and friends. So What do you expect when you Celebrate Christmas in the Tropics, esp Singapore?
Singapore celebrates with the Christmas Light Up in the Orchard Area, Garden Festival, A dust to dawn non stop music festival in ZoukOut, International Guitar festival, ever appealing shopping made more friendly and exciting with late night shopping, various theatre events and music concerts, to name a few.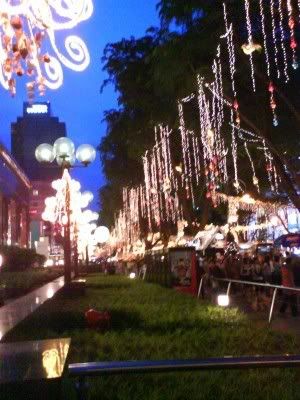 To elaborate some of the above, like the Singapore Lights Up Deepavali, she also Lights Up Christmas. Christmas Light Up 2006 extends to about 6.5 Kms with Decorative lighting, Celebratory Arches, Theme Sets that shall delights the Shoppers, Pedestrians and provides everyone an opportunity to exhibit their photo taking skills. Of course, its memory value is much more. Light Up happens in the Shopping heartland of Orchard Road, Scotts Road and Tanglin.
Some interesting statistics of this year's light up, supposed to be the biggest ever and brightest ever, whose theme is, Enchanted Christmas Garden and Christmas Bells, are:-
1. Seven Weeks of Light up from Nov 11, 2006 to Jan 02, 2007. [Waited this long, just to post this near the occasion of Christmas.]
2. Length of Rope Lights and Fairy Lights - more than 100,000 metres.
3. Number of Diamonds and Gems - more than 98000.
4. Number of Red Christmas Baubles - more than 8000.
5. 1000's of Man hours.

Highlight of this years Light Up is the Singapore's most expensive $250,000 Christmas Tree, made of 600 Swarovski Crystals. Its truly a sight to behold. I put up here a lighted version (borrowed photo) and my own day time version of this tree.
Last Year Singapore welcomed over 800,000 visitors this month and hope to welcome even more this time. An occassion for Locals and Visitors enjoy these and vow to come back again for another Christmas.

When are you visiting here
?
Merry Christmas and a Very Happy New Year to all.