Congress Curry

My contribution to the Food Parade on Independence Day Celebrations.
I have named this as a remembrance of the Party that fought for our Independence.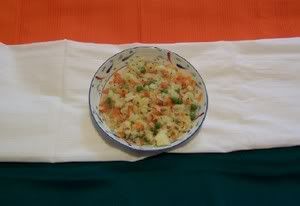 Congress curry

Cabbage shredded 1 cup
Carrot cubed 1/2 cup
Green Peas 1/2 cup
Grated Coconut 2 tablespoons
Ginger one small piece
Green chillies 1 to 2
Salt to taste
Mustard seeds
Oil 2 tsp

Method:
1. Heat oil in a pan ,splutter mustard seeds.
2. Add shredded cabbage, chopped carrot and green peas.
3. Cover and cook on a medium flame.
4. Add required amount of salt.
5. Slightly crush coconut,ginger and green chillies and add to it.


Three Main Vegetables and Three Cheers to Independent, Progressive, Democratic India.

Let its March Ahead Continue.


Happy
Independence
Day ! ! !