Pulunkari (Vendhaya Sambar)
# Pulunkari (Vendhaya Sambar) is a Traditional Kerala Dish.

# Highlight of this dish is "taste like sambar" but without much dal.
# Easy to make and Good to taste.
Source: My Aunty who featured in Oman Times with this Recipe.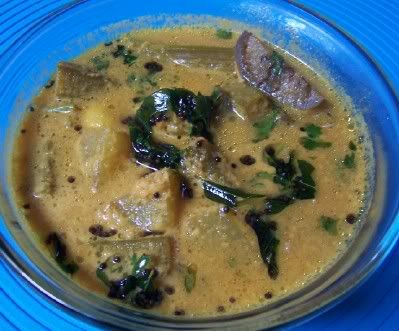 Ingredients Needed:

1. Mixed Vegetables (Drumstick, Brinjal, Lady's Finger, Carrot etc)(Any Sambar vegetables) (cubed)
2. Tamarind small lemon size
3. Salt to taste
4. Slit Green Chillies 2
5. Hing
6. Turmeric Powder 1/4 tsp
7. Gud (jaggery) little

For Paste:
1. Fenugreek seeds (methi) 3/4 tsp
2. Toor dal 1 tsp
3. Raw Rice 1 tsp
4. Grated Coconut 3 to 4 table spoons.
5. Oil
6. Dry red Chillies 5 to 6 (according to taste)

For tempering

1. Oil
2. Mustard seeds
3. Curry leaves.


Pulunkari (Vendhaya Sambar)
Method:
1. Take out the Tamarind pulp and dilute it with water (2-1/2 cups)
2. Boil Tamarind water with Turmeric, Salt, Green Chillies and Hing.
3. Add Vegetables and cook till vegetables become soft.
4. Mix grinded paste, Gud (Jaggery ) and Cook further a for 5 minutes.
5. Temper with Mustard and Curry leaves.

This sambar can be made without any Toor Dal, instead, add little more Coconut.

:!: Serve with Hot Rice. :!:
Note: For best flavour use coconut oil for tempering.