Mor Koottu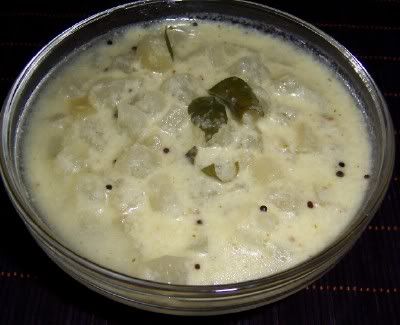 Mor Koottu
!~!

Mor Koottu is a cousin of "Avial"


!~!

Curd Based.


Ingredients Needed:

1. Vegetables (Banana Stem, White pumpkin, Chayote Squash, Cabbage) any one vegetable cut into cubes 2 cups
2. Salt to taste
3. Hing.
4. Turmeric (optional)
5. Curds 4 table spoons
Ingredients for Grinding:
1. Grated Coconut 3 tablespoons
2. Green Chillies 3 (according to taste)
3. Rice flour 1 tsp
4. Cumin seeds 1 tspGrind the above, adding little water.(fine paste)

For Tempering:
1. Oil 1 tsp
2. Mustard seeds
3. Urad dal 1/2 tsp4.
4. Curry leaves.


Method:
1. Boil the Vegetables with Salt and Hing without adding water. (Water ooze out from the vegetables and itis enough for boiling)
2. When Vegetables are fully Cooked, add the grinded paste mixed with curds.
3. Switch off before boiling.
4. Temper with Mustard, Curry leaves and Urad dal.

~*~

Serve with Hot Rice

. ~*~


~*~

Generally goes well with a Spicy Sambar, Vatha Kulambu

.

~*~