Baingan Masala (Brinjal Masala)


A North/South Medley Dish.
Tangy Flavoured Brinjal Dish.
Ingredients Needed:
1. Brinjal
2. Tamarind small gooseberry size
3. Salt to taste
4. Onion finely chopped 1
5. Tomato finely chopped 1
6. Curry leaves and coriander leaves
7. Turmeric Powder
8. Water

Ingredients for Paste
1. Grated Coconut 2 tablespoons
2. Dhania seeds (coriander Seeds ) 3 tablespoons
3. Til (Sesame seeds) 1 tbsp
4. Dry Red Chilli 7 to 8 (according to taste)
5. Groundnuts 3 tablespoons
Fry the above ingredients separately without adding water and grind into fine paste.

Ingredients for Tempering/Tadka
1. Oil 2 tsp
2. Mustard seeds
3. Cumin seeds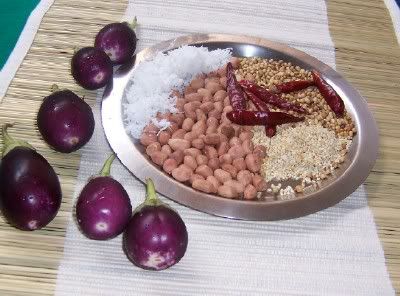 Method:
1. Slit Brinjal into 4 or 6 pieces and keep immersed in water till use. (To avoid blackening)
2. Heat Oil in a pan, add Mustard and Cumin seeds.
3. Fry Onion till brown and add tomatoes and fry till cooked.
4. Now goes the main ingredient Brinjal, fry well and add grinded masala paste.
5. Add Turmeric, Salt and Mix well, pour 3/4 cup of water and cook till done.


-:>
Serve Baingan Masala with Hot Rice or Roti.
<:-
Brinjal Masala (Masala Baingan)

Note:
1. Ginger and garlic can be added while grinding.
2. You can stuff this masala in Brinjal and make it as a Curry.